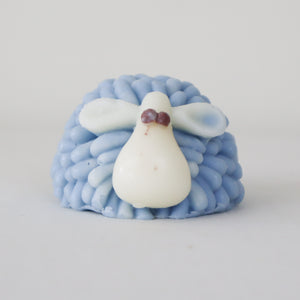 Make shower/bathtime fun with these adorable Goatsmilk sheep soap. Goats milk soap is great for dry or sensitive skin conditions such as eczema and psoriasis, and is moisturising for the skin, making it perfect for little bodies.
This blue sheep soap has a sweet, juicy bubble gum scent with notes of fresh berries, peach, pineapple and citrus. A great gift for your little one or a treat for yourself to connect with your inner child again. 
Please note: All soaps come shrink wrapped
Ingredients include: Aqua, Glycerine (from Canola), Sodium Cocoate (Soap from Coconut), Sorbitol (a Sugar Alcohol), Goatsmilk, Sodium Stearate (from Canola), Cocamidopropyl Betaine (Coco Betaine from Coconut), Sodium Chloride, (Salt) Sodium Citrate (salts of Citric Acid), Cocos Nucifera (Coconut Oil, Polyglyceryl-4 Oleate (from Sunflower & Canola Oils), Trisodium Sulfosuccinate (aka trisodium salt), Citric Acid, soap safe colour, Fragrance Oil.