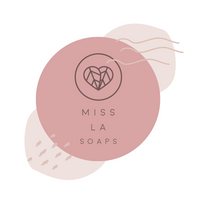 Miss LA Story
Welcome to Miss LA Soaps!
If you have suffered from dry, dull, acne prone or irritated skin, have used many products but never found the right one for you, then look no further.
Our mission is to provide quality skin care and we pride ourselves on using the best products so you can look and feel amazing.
Miss L.A Soaps is a family owned business and we are passionate about making 100% handmade artisan products, that are not only beneficial for the skin, but also smell and feel amazing for you and your family. We believe that skin care should be simple, uncomplicated and affordable.
Everyone deserves to feel beautiful right?! We also believe that everyone should be able to use the very best quality skin care that makes them feel and look good everyday!! Your skin is your best accessory, it is also your biggest organ and what you put on your skin can affect your overall health too!
With that in mind we have created the perfect product for you. Contact us today for your own personal shopping experience or browse our store to find the perfect product for you and your family.
All feedback is appreciated, and we trust that you will love our products as much as we do.
From the team at Miss L.A Soaps xx
Testimonials
 The soaps lather beautifully and smell incredible. I also had an opportunity to try the whipped soap and it feels like I'm being spoilt with something special. Almost like a mini escape at home.

Sarah Edmundson
Not only do I love love love Miss LA Soaps for lip balms, body scrubs and soaps but I've just had the pleasure of using their clay mask for the first time and oh my gosh! I have used similar "big name" products and haven't seen such a result! My skin feels cleaner, brighter and tighter. Can't wait to add this to my weekly skin care routine!



Teigan Thew
Such amazing products! The whipped soap is beautiful, you only need a small amount as it really goes a long way and feels so luxurious without being overpowering in scent. I also got the lip scrub and balms and the body scrub - awesome! Highly recommend these products.

Carolyn Floyd
Wow! Japanese honeysuckle melts did not disappoint, they are lush and my home smells amazing! Thank you, thank you, thank you.

Nic Hardman
Amazing products I'm so impressed with everything I have tried 5 stars.

Kirsty Ewens
I can't rave enough about the pink clay mask. Every time I use it, the next day my skin is clear and glowing!! I also tried the green mask and it's brilliant. 

Jaime S