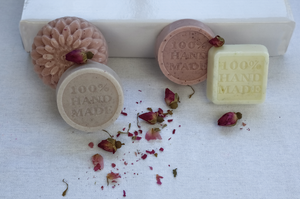 Deluxe Skin Care Pack
Treat yourself (or someone else) to our deluxe Soap Pack containing:
Pink Clay Goatsmilk Soap (Cherry blossom scent)
Purple Clay and Goatsmilk Soap (Lavender essential oil)
Kaolin Clay and Goatmilk Soap (Orange essential oil)
Pink Clay and Goatsmilk Soap (Rose essential oil)
We use clays in our soaps as they are a perfect natural detoxifier, acting as a natural magnet to remove toxins. Clays also mildly exfoliate the skin, removing dead skin cells.
These soaps are soft and gentle and all natural for dry/sensitive skin types.
All our soap packs come gift wrapped!