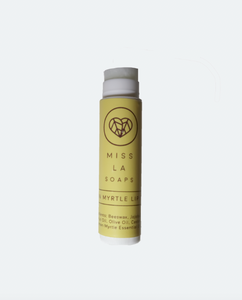 Our lemon myrtle lip balm contains moisturising Shea butter,  jojoba oil, coconut oil and beeswax which helps to seal moisture into your lips, and especially beneficial during the dry winter months. Your dry lips will soak up the nourishing benefits of the oils whilst being protected and moisturised. An added touch of Vitamin E will ensure that your lips are moist and so soft!
Did you Know? Lemon Myrtle helps to reduce and clear coldsores as well as providing relief from headaches? 

All of our lip balms homemade with love, and we use the best quality ingredients.
Ingredients include:Shea Butter, Beeswax, Jojoba Oil, Coconut Oil, Vitamin E, lemon myrtle essential oils.