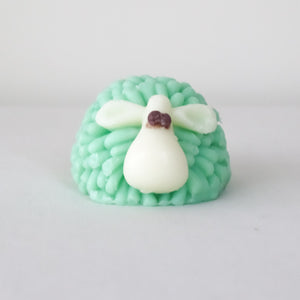 Make shower/bathtime fun with these adorable Goatsmilk 'sheep soap'. Goatsmilk soap is great for dry or sensitive skin conditions such as eczema and psoriasis, and is moisturising for the skin.
This green sheep soap has distinctively clean, sharp tones of citrus (lime essential oil). A great gift or an even better treat for yourself. Lime is wonderful in providing clarity, so a great morning pick-me up before you start your day.
Please note: All soaps come shrink wrapped 
Ingredients include: Aqua, Glycerine (from Canola), Sodium Cocoate (Soap from Coconut), Sorbitol (a Sugar Alcohol), Goatsmilk, Sodium Stearate (from Canola), Cocamidopropyl Betaine (Coco Betaine from Coconut), Sodium Chloride, (Salt) Sodium Citrate (salts of Citric Acid), Cocos Nucifera (Coconut Oil, Polyglyceryl-4 Oleate (from Sunflower & Canola Oils), Trisodium Sulfosuccinate (aka trisodium salt), Citric Acid, soap safe colour, Essential Oil.