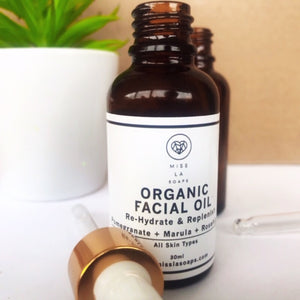 Perfect for dry skin, this luxury facial oil, is high in critical antioxidants -(vitamin E), and rich in omegas 6 and 9, which helps to moisturize, rejuvenate and nourish skin whilst restoring a youthful glow.
The facial oil can be used on your face and neck to smoothe, nourish and brighten skin. Infused with Organic Rosehip Oil, Pomegranate, Marual Oil and Olive Squalane this natural elixir is a rich source of antioxidants and essential fatty acids that will leave you skin feeling healthy and radiant.
This oil can be used for all skin types -especially suited for dry skin.
Directions for Use: After your nightly cleansing and moisturising routine apply a few drops of oil between your hands before gently pressing it onto your face until it absorbs. 
Please keep in a cool/dry place
Ingredients: Organic Rosehip Oil, Organic Marula Oil, Organic Pomegranate Oil, Organic Argan Oil, Organic Jojoba Oil, Essential Oil blend.